Minibus Rentals from Bacau, Romania
How to choose fast a good minibus to rent in Bacau? Find out now!
For a lot of people it is quite a challenge to rent a good minibus in one of the loveliest cities in Moldova. Bacau is without a doubt a city that can needs to be visited with friends and also family. Why do so many tourists choose to rent a reliable minibus? These cars are comfortable and with enough space to accommodate a medium-sized and large group. With the right support and utter assistance, you will be able to rent a good minibus without "running" into stressful situations. Some of the best minibus rentals offers are at your disposal in Bacau. Autoboca has many minibuses that can be rented with confidence in this town.
In order to be the on the receiving end of a good offer, all you need to do is contact us. We shall do the rest. Our agents in Bacau will provide assistance during all phases of the renting process. In this city you will find good minibuses available for rent at advantageous prices. Time to see which minibus should be under your radar! In the rows below you will find more information on the characteristics of all minibuses in our fleet.
VW Touran
or similar
Class I
Dacia Lodgy
or similar
L1
Renault Trafic
or similar
Class O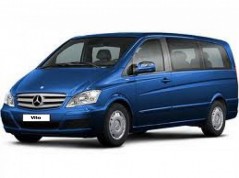 Mercedes Benz Vito 113 CDI
or similar
Class P