Minibus Rentals from Bucharest Băneasa, Romania
Do you want to rent a spacious minibus in Bucharest Baneasa?
There are many situations in which we found ourselves close to a lot of persons and a compact car that can accommodate only five persons is not enough. In order to ensure a safe and comfortable environment that all passengers can enjoy, you need to rent a reliable minibus. In Bucharest Baneasa you will find at Autoboca a lot of quality minibuses, fitted to cover the transport needs of group trips in the city and not only. To this particular end we invite you to discover the advantages of choosing a short or long collaboration with Autoboca. In our fleet you will find many models that have been rented often by touristic and family groups! You won't be disappointed by our minibuses! More than that, in this working office you will be able to discuss directly with Autoboca representatives.
Our minibus renting service in Bucharest Baneasa is very easy to access. It doesn't take long to rent the desired minibus. Furthermore, our advantageous prices and extra services can determine you to choose faster a minibus from us. You have now the chance of taking advantage of our low prices, applicable to various models. Choose with confidence a model from Autoboca fleet. In the minibus section we are sure that you will find a safe and comfortable model!
VW Touran
or similar
Class I
Dacia Lodgy
or similar
L1
Renault Trafic
or similar
Class O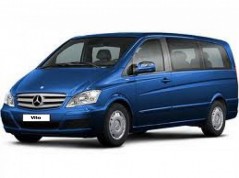 Mercedes Benz Vito 113 CDI
or similar
Class P