Minibus Rentals from Constanţa Airport, Romania
How can you rent a spacious and comfortable minibus in Constanta airport?
You should know that it is not hard to rent a quality minibus in Mihail Kogalniceanu international airport from Constanta. Autoboca rent a car gives you fast access to good minibuses, optimal for accommodating large groups of persons (five to nine). You have in the present the possibility of choosing a comfortable and easy to drive minibus. In our fleet you will discover a lot of minibuses, each one promising to help you conquer the Romanian seaside and more. We currently offer you a professional minibus rental service in Constanta airport. You will discover relatively fast how you can rent a good car from us. In just a couple of minutes you will be able to rent a comfortable and spacious minibus, capable of offering enough space for all passengers.
Autoboca has in the present a lot of high quality minibuses available for rent in Constanta airport. You can easily take a model from us – clean and ready to go. We offer you the possibility of driving a safe minibus, perfect for group trips in the country. Why shouldn't you take advantage of our promotional offers and safely drive anywhere you want? At Autoboca you will always find trained agents, always ready to offer access to reliable models.
VW Touran
or similar
Class I
Dacia Lodgy
or similar
L1
Renault Trafic
or similar
Class O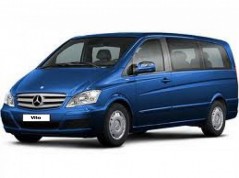 Mercedes Benz Vito 113 CDI
or similar
Class P