Minibus Rentals from Iaşi, Romania
How can you rent a minibus in Iasi from Autoboca? Find out more things now:
A spacious minibus capable of accommodating 7 or 9 persons can be found if you know where to look. There are many situations when you have to use a comfortable and space generous minibus, which can hold a group united especially on long trips. If you also need a minibus in Iasi for a specific period of time, then you can safely opt for a car renting service. In one of the biggest towns in Moldova, Autoboca gives you access to advantageous offers on great minibuses. Thousands of locals and foreign tourists have rented in the last couple of years good quality minibuses from us. Do you want to find an advantageous offer on minibuses in Iasi?
A professional minibus renting service in Iasi can be accessed with ease if you choose to collaborate with us. When you start looking with attention through our offers you will easily find a good car to rent. Why shouldn't you take advantage of a professional minibus renting service in Iasi? We shall wait for you every day in our office with great offers on different minibus. Below you will find more details on some of the best minibuses available for rent at Autoboca in Iasi city!
VW Touran
or similar
Class I
Dacia Lodgy
or similar
L1
Renault Trafic
or similar
Class O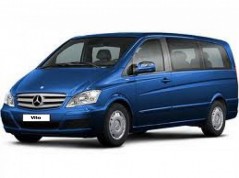 Mercedes Benz Vito 113 CDI
or similar
Class P