Minibus Rentals from Piatra Neamţ, Romania
You can rent a quality van in Piatra Neamt from Autoboca!
When you're travelling with a big group, it is pretty difficult to feel good if you don't have access to a car generous with space. The minibus is without a doubt one of the best cars that you can drive and at a same time accommodate a group of five or more persons. Everyone should enjoy the trip, as a driver or passenger. Those that are searching for bigger minibuses to rent, need to take into account certain aspects. You can't simply choose the first minibus you see in the offer of a rent a car firm. Autoboca offers you in Piatra Neamt access to quality minibuses, optimal for trips alongside family and friends. Our offers are currently available to all clients that wish to enjoy a good car for a specific period of time.
Do you want to rent a minibus in Piatra Neamt that you can drive without stress anywhere you want? If you want to find a trustworthy means of transportation, you can opt for a model from us. Why shouldn't you take advantage of our offers? We invite you to explore every renting possibility available in the minibus segment from Autoboca in Piatra Neamt!
VW Touran
or similar
Class I
Dacia Lodgy
or similar
L1
Renault Trafic
or similar
Class O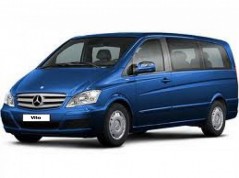 Mercedes Benz Vito 113 CDI
or similar
Class P