Minibus Rentals from Suceava, Romania
Do you want to rent a good minibus in Suceava? Autoboca has a special offer for you!
In 2016 a lot of people choose to rent minibuses in Suceava. Whenever they travel in groups this type of vehicle is more than suited to offer good travel experiences. The utility of this means of transport is hard to ignore, especially when you have to take long duration trips throughout the country. In northern part of Romania, we noticed that people are very attentive when it comes to the cars they are about to drive. They can't simple stand behind any model. No. They want to make sure that they have at their disposal a comfortable and spacious car. The driver needs to be in complete control over the minibus and the passengers to feel safe during trips. For this reason you will find in Autoboca offer in Suceava only quality minibuses.
Why shouldn't you take advantage of this occasion and rent a quality minibus? In Suceava you will find Autoboca representatives, always ready to help you rent a trustworthy car. If you want to opt for collaboration with us, we are at your disposal every single day. It is very easy to rent a good minibus in Suceava from Autoboca. In the following rows you will discover how to rent a car from us!
VW Touran
or similar
Class I
Dacia Lodgy
or similar
L1
Renault Trafic
or similar
Class O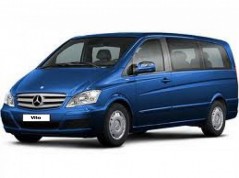 Mercedes Benz Vito 113 CDI
or similar
Class P