Minibus Rentals from Suceava Airport, Romania
Where can you find and rent a quality minibus in Suceava airport?
When you are starting to look for a minibus to rent in Suceava international airport, you should take a second to look at Autoboca offers. This is where you will find a reliable vehicle capable of accommodating with ease your immediate transport needs. In our fleet there are a lot of cars that can be used without stress to reach any destination. Every driver deserves to have access to a good minibus, designed to ensure stability and safety during trips. Autoboca has many minibuses in its fleet, from top auto producers. As a result, you will be able to find a good model and start driving without stress. This is the best way to explore the city of Suceava and not only. What do you need to know about our minibus renting services?
If you want to use a good minibus, with enough space and proper comfort levels, take a second to look with attention at our models. We have a couple of minibuses that can be used with confidence to explore new areas of a city. In "Stefan cel Mare" international airport Autoboca you will find our agents. They will help you during the reservation process. As a result, clients will find easier a good minibus to rent!
VW Touran
or similar
Class I
Dacia Lodgy
or similar
L1
Renault Trafic
or similar
Class O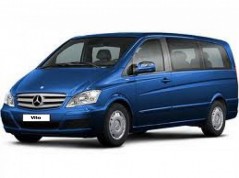 Mercedes Benz Vito 113 CDI
or similar
Class P
Minibus with more than 5 seats to rent in Suceava airport: good offers to consider!