Minibus Rentals from Târgu Mureş, Romania
Where to find a good minibus to rent in Targu Mures?
Transylvania is without a doubt a region that has an impressive interest nowadays among tourists and business men. One of the most important cities in this region is Targu Mures. This city is a touristic treasure and an important economic centre. If you plan on travelling here with your friends or business partners, make sure that you have at your disposal a spacious and comfortable vehicle. Where can you locate in this city a good minibus to rent? Well, Autoboca is without a company to consider if you want to rent a good car during your stay in Targu Mures. For years now this Romanian firm managed to help thousands of people to go about their days behind the wheels of good quality vehicles.
Why shouldn't you follow in their footsteps? It is important to have access to a reliable car, one that can take you closer to your destination. We have in our fleet many minibuses that can be used with confidence during trips, long or short. All you have to do to rent one is contact us; from there things are very simple. We can make your life easier by presenting details about some of the best minibuses available for rent in Targu Mures.
VW Touran
or similar
Class I
Dacia Lodgy
or similar
L1
Renault Trafic
or similar
Class O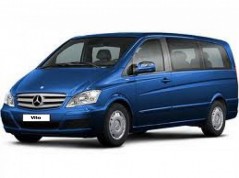 Mercedes Benz Vito 113 CDI
or similar
Class P