Minibus Rentals from Târgu Mureş Airport, Romania
How can you rent a good minibus in Targu Mures airport?
Autoboca invites you to discover a couple of high quality minibuses, which you can rent with confidence in "Transylvania" international airport Targu Mures. You will see that renting a comfortable and spacious minibus from us in this airport is quite easy, taking only a couple of minutes from your time. We have a rich fleet which reunites minibuses from top auto producers. Autoboca representatives in Targu Mures will help you rent in a short period of time a minibus compatible with the transport needs of the group. We want you to know that you'll always have in Autoboca a trustworthy road trip partner.
We offer you a professional minibus rental service in Targu Mures airport. At us you will find advantageous offers, easy to access whenever you need! We have diverse models, just right for long or short trips throughout Romania's cities. In order to find relatively quickly a good car, we developed a special minibus section. This way you will know exactly where to find a good model. Autoboca agents are at your disposal every single day. You have now the chance of benefiting from the auto advantages of quality minibuses on the Transylvanian roads!
VW Touran
or similar
Class I
Dacia Lodgy
or similar
L1
Renault Trafic
or similar
Class O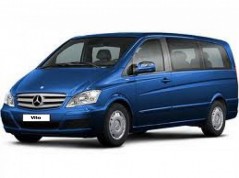 Mercedes Benz Vito 113 CDI
or similar
Class P